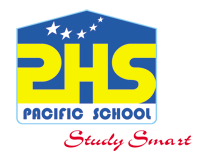 PACIFIC PRIMARY AND HIGH SCHOOL
PHS Logo & Slogan
---
ABOUT TOTAL: The colors used in the logo are blue, yellow and light blue.
Blue is the color that represents the intellect and energy of teachers and students. This is also a color showing professionalism in every PHS work process.
Yellow is the color of the sun, associated with joy. It represents the understanding, energy of each student, the dynamism, creativity and fun in PHS activities.
The light blue color used as a logo contour is the color of peace and development, which are values ​​built at PHS. The light blue border also expresses the integration of PHS with international education.

With the image of the house, the logo shows the emphasis on building a friendly, safe and active learning environment for each student. That is the requirement as well as the trust of parents who send their children to an educational organization like PHS.
ABOUT DETAIL: Inside the logo are 5 star symbols for 5 standards of PHS:
Comprehensive education program
Good and dedicated teachers
Modern and comfortable equipment
Healthy and friendly environment
Strict and effective management system

The flying stars are also the symbol of the dynamic, confident and confident generations of PHS students reaching the sky successfully.

Three characters P, H, S stand side by side with many implications It is the abbreviation of the school's English name ( P acific primary & h igh s chool). PHS is the interaction between P acific School - H Parents - S tudents, partner in the development process of each student and to reach the highest educational achievement.